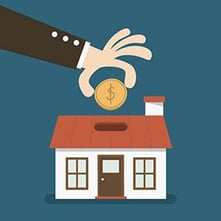 Credit agency Veda has released new data that shows mortgage applications are up 11.6 per cent year-on-year.

But the rate of application for personal loans and new credit cards has slowed.

Veda managing director Carol Chris said that seemed to suggest the the strong housing market was encouraging people to add their retail spending to their mortgages.

"Electronic card spending at retail outlets in New Zealand was up 6.8 per cent in the March quarter, compared to the same period a year ago, according to Statistics New Zealand. This is a higher annual spending growth rate than reported in the second half of 2015," she said.

"This positive movement in mortgage application data and the decrease Veda has seen in credit card and personal loan applications over the same period suggests that more home loans, rather than hire purchases or credit cards, are being used as an additional source of funds, which is helping to drive retail sales growth."

Personal loan and credit card inquiries dropped by 2.9 per cent and 5.4 per cent respectively.

Most of the hosing market activity was among people aged 28 to 43, who made up 46 per cent of mortgage inquires.

"Demand in the housing market and the use of mortgage loans as a preferred source of additional funds for big-ticket retail spending, continues to be driven primarily by Gen X consumers with Baby Boomers also accounting for a significant share of the market, at 37 per cent," Chris said.

She said it was common for people to buy white goods on the mortgage when they were purchasing a new house. It was not necessarily a concern.

"Interest rates are lower on a mortgage and history shows that mortgages tend to get paid over time. At the end of the day it's about what people can afford and lenders need to be fulfilling their responsible lending obligations and it is important people can service their debt."

ASB chief economist Nick Tuffley said the trend would not worry the Reserve Bank on its own.

"If people are borrowing against their house when they otherwise would be borrowing on consumer finance, there's no increase. If they are spending the wealth gains of their house then the Reserve Bank would look at the inflationary implications of that."