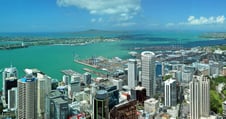 The number of new houses up for sale in Auckland has fallen by a "significant" amount as high prices and low stock fuel a seller's market.

Auckland's housing stock for May fell 9.2 per cent compared to the same time last year, data from Realestate.co.nz showed.

Property commentator Olly Newland said it was a significant number for Auckland because of how tight the market already was."Anything that goes up for sale today in Auckland, even leaky places, it's a guaranteed sale," he said.

Northland
Auckland
Coromandel
Waikato
Bay of Plenty
Central North Island
Gisborne
Taranaki
Hawke's Bay
Manawatu/Whanganui
Wairarapa
Wellington
Nelson
Marlborough
West Coast
Canterbury
Central Otago/Lakes
Otago
Southland


He said there were two main reasons why people were not putting their houses up for sale - people think prices will keep going up, so they could possibly generate more profit, and many people resist selling until they can find something else, which was not easy in the current market.

"Not everyone can afford to buy first and sell later," Newland said.

Realestate.co.nz spokeswoman Vanessa Taylor said while this was not the largest drop nationally, it was important considering Auckland's size.

"A fall of close to 10 per cent in listings in one year in a city the size of Auckland is very significant," she said.

"At the same time Auckland asking prices have risen in the past month by 2.1 per cent compared with April 2016, albeit off a high value base."

Compared to May 2015, house prices in Auckland rose 10.9 per cent.


The number of new properties that went on the market nationwide in May fell 7.1 per cent from the previous year.

At the same time, the May national average asking price grew 7.2 per cent on the same time last year, reaching $570,971.

Taylor said if no new listings were to come onto the national market and all existing properties were sold, houses for sale would run out in 12 weeks.

"It's a classic supply and demand situation and right now it's definitely a seller's market," she said.

In Wellington, an average house owner in the capital made an effective capital gain of nearly $7000 in a single month. That was thanks to the 1.4 per cent rise in the average price to $513,518, which is below the national average price.

The Central Otago region experienced the greatest increase in price for May, growing 8.9 per cent from last month and hitting $819,778.

It also experienced the largest fall in property listings, down 32.9 per cent on the same time last year.

The Waikato region experienced a 6.1 per cent increase in house prices on the previous month but the number of new listings remained static.

"We could be tempted to make an assumption that Aucklanders are looking further south to the Waikato. However data shows us that we have seen a strong increase in users from the Bay of Plenty looking at the region," Taylor said.

The average asking price in the Waikato is $467,717 compared to Auckland's $879,730.