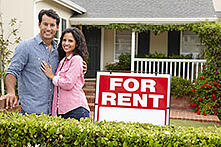 Rents have risen nationally by 5.5 per cent, an eight-year high, and gathering pace even more strongly in provincial areas.

Infometrics chief forecaster Gareth Kiernan has run his ruler over tenancy bond figures during the December quarter compared to a year ago.

He found the level of rent rises outside Auckland and Christchurch was up on average by 8.7 per cent.

In particular, there were significant jumps in rent in the Waikato and Bay of Plenty, which at between 7.1 per cent and 11 per cent were the highest in 12 to 13 years.

Rental inflation was at an all-time high in Thames-Coromandel and Rotorua, while Hauraki, Matamata-Piako and Taupo were also seeing the highest rent hikes in about a decade.

Other regions where rents were reflecting a buoyant property market were Wellington (up 6.9 per cent, a seven year high) and Central Otago Lakes (a 17-year high of 21 per cent).

Kiernan put the rent rises down to population growth, which was not just confined to Auckland.

Wellington's population, for example, had grown 2 per cent in the year to June last year.

Another factor was investor interest turning to cheaper, provincial markets.

New landlords were likely to demand higher rents to justify the higher prices they paid, and people were paying them.

"While it's not as spectacular as Auckland, the rest of the country has had good economic growth as well so. in some sense, there is an ability to pay on the tenant's side."

An exception was Canterbury, where rents fell 0.9 per cent as the housing supply there came back into balance.

Strangely, population growth and a housing shortage did not seem to be putting pressure on Auckland rents, where they rose just 3.3 per cent.

Kiernan said Auckland's mild rent rises were hard to explain, but were probably a result of people being unable to pay more and a willingness on the part of landlords to settle for capital gain.

That was unlikely to remain the case if Auckland's house prices fell. Infometrics is predicting house prices will fall 12 per cent by 2020.

But Kiernan was more worried about a correction in the provinces if enthusiastic investors triggered a wave of building.

Fast-growing Queenstown was a good example.

"Yes, [the provinces] have had strong population growth but they're not starting from the same point of undersupply as Auckland.

"And so you run the risk of overbuilding at the same time as population growth eases and interest rates rise."

The government's tenancy bond figures lag behind another rental measure, Trade Me's monthly rental index, but are considered to be more complete.