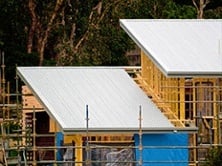 Using the renovation strategy can lead to profit if done correctly. This strategy is increasingly becoming more popular amongst property investors adding value to their property portfolio and creating capital growth regardless of the market conditions.
Here are our top six tips to help you enjoy more success with your next reno project.
1) Find the right renovation property

Renovation properties should be at least 20% below the median price. These properties will commonly be poorly presented or cosmetically distressed, for example - tired paintwork, poor landscaping or poor street appeal.
The key is targeting properties with potential that you can make improvements and add value to, for the type of buyer or tenant looking to reside in that area.
However, there are some signs renovators should keep in mind when targeting suitable properties:
Roof and Foundations - When the property looks to be a easy renovation but has been vacated for a long time.
If nothing seems wrong on the outside, hire a professional to check for any structural issues. Also, look inside for cracks on the roof or walls.
Electrical or Plumbing issues - Hiring building inspectors to check over the property could save you a lot of money in the long run if their are a lot of expensive fixes.
Rotten Boards - Sometimes hard to spot as they can be covered by paint, be sure check around windows and doors.
2) Research key suburb and property facts
Investors must research and consider the suburb and property facts before renovating, some facts to consider include: population demographics, migration and median price trends and local culture.
Research -
Current demand for real estate in the area.
The median sales price for similar properties in the area
Look for similar properties in the area, and their current rental earnings.
The history of the property: on-the-market and sales history, ownership details, recent comparable sales and an estimated market value for the property in its current condition and then after renovations.
3) Renovation budget
Investors must consider the initial costs and the improvements to ensure the renovation is affordable. Also ensuring not to over-capitalising, when the cost of the renovation outweighs the market value it will add to your investment property.
You can download a free renovation budget calculator brought to you from Real Estate Investar, to help you keep your budget under control.
Expenses to consider:
Deposit
Stamp duty
Other related costs - solicitors fees, pest and building inspection
Renovation costs
Interest repayments during the renovation
Contingency fund
4) First impressions count
Before renovation, consider the target market and if you do sell on completion, ensuring the property still appeals to your target market.
Renovations do not always have to work towards the goal of immediate selling. You may wish to renovate, revalue and then rent out the property at an increased level of rent.
5) The finished product
Potential buyers will not look favourably upon a half-finished bathroom, unfinished decks and kitchens without appliances.
6) Selling, gaining and profit
Ensure the renovations have made a noticeable difference as potential buyers may have looked at the property before the renovation.
Outline the changes you have made, underline its new features.
Ensure you cover the costs -

when asking a sales price, consider the need to take away a real estate agent's commission and other sales costs

Determine the new target market. Post renovations the property might be more appealing to businesses, family, rental or holiday home.
If you are looking for a property suitable for a renovation, you can take a free 21-day trial of Real Estate Investar.

This powerful and simple to use real estate software can help you find, analyse and research investment property opportunities more successfully.
Happy renovating!