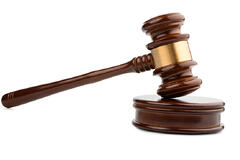 A New Zealand woman who narrowly escaped being crushed in the Christchurch earthquake has welcomed a law change she campaigned to achieve.
Ann Brower on Thursday revisited the site where masonry collapsed on the bus she was in on February 22, 2011.
"This isn't really a place where you want to celebrate," she said.
"It's hard to celebrate in a place where 12 people died, but I really want to congratulate the select committee and the minister for what is democracy in action."
Ms Brower, a Lincoln University lecturer, submitted evidence to a parliamentary committee on the danger posed by unreinforced masonry.
She convinced the committee, and Housing and Building Minister Nick Smith, that a law change was needed.
"Her fastidious advocacy and professional research has persuaded us to change the law," said Dr Smith, standing beside her.
He announced that fixing parapets and facades on earthquake-prone buildings was going to be a priority.
The law change has been inserted into the Building (Earthquake-Prone Buildings) Amendment Bill which is going through parliament.
There will be a new priority category covering buildings with parapets and facades that could collapse in an earthquake.
The effect is that assessments must be completed in two-and-a-half years instead of five, and buildings upgraded within seven-and-a-half years instead of 15.
Dr Smith says it's estimated about 2000 buildings across New Zealand will fall into the new category.
The bill includes many changes to earthquake-prone building laws, and zones buildings into areas of low, medium and high risk.