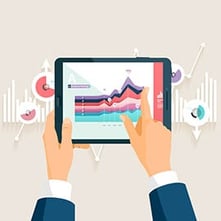 New Zealand's property market seems to be in a holding pattern as investors and home-buyers wait to see what will happen next.

Property data firm MyValocity has released its latest report, which shows double-digit house price growth in much of the country, particularly in centres around Auckland.

Tauranga's house prices are up 27.8 per cent, year-on-year. Hamilton was up 26.4 per cent.


Auckland, Wellington and Christchurch were up 8 per cent, 12.9 per cent and down 0.5 per cent respectively.

READ MORE: Sellers wait for a premium while buyers take their time: Realestate.co.nz

James Wilson, a valuer at MyValocity, said there had been a flock of investors to the regions when the Reserve Bank imposed stricter lending rules on Auckland investors.

Now that a 40 per cent deposit is required wherever they are in the country, he said it would take time to see what effect that had.

"It is harder to see where they are going. We we can really see is the 'wait and see' approach has come back into play, investors are holding fire to see what the market does, what happens to prices and days to sell," he said.

"It doesn't necessarily mean we are going to see the market go down, just that activity levels are dropping off. There's still low interest rate sand low supply but house prices will hold their own until activity comes back in."

Nationwide, the number of investors and movers in the market dropped slightly over the past three months, while first-home buyer numbers remained constant.

MyValocity said Aucklanders were driving a lot of the growth in Tauranga, which had become sought-after by retirees, investors and homeowners who wanted to find more affordable property.

Its properties are now selling at an average 35.7 per cent above their CV and there are now almost as many investors in the market as there are first-home buyers.

Wilson said that was probably partly driven by the fact that "Forty per cent of an investment in Auckland versus 40 per cent outside is a far lower sum."

Hamilton had also been a popular option for Auckland homeowners looking for cheaper property, the MyValocity data said. There, investors are a bigger part of the market than first-home buyers.

Dunedin has also benefited from being an affordable spot - more than 90 per cent of sales there are going for less than $600,000.