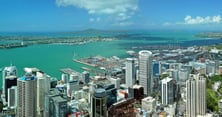 Cheap petrol, high consumer confidence and good summer weather were a hot recipe for shoppers to splash out in March.
Retail spending in March was up a solid 0.8 per cent on February, seasonally adjusted, almost matching the 1.1 per cent gain in February.
Core retail spending, excluding fuel and cars, was up about 6 per cent on March last year, Statistics NZ figures show.
Spending on food and drink, consumables, rose in March and is up about 6 per cent on March last year.
And the hospitality sector, including hotels, bars, cafes and resturants, has also enjoyed a cracker year, with annual spending up about 11 per cent.
Mike Egan who has interests in three Wellington restaurants says the past few months had been good, but he put that down to the "awesome" summer weather.
"If the weather is good, places with outside areas do really well...Generally the good weather means people are out and about more," Egan said.
As well, the cruise ship season had been "great" for the lunchtime trade in the city. "Unfortunately most cruise ships leave at 6pm so we don't get a dinner rush".
Trade had been generally buoyant, in part reflecting high occupancy rates at Wellington hotels over the summer.
Egan has interests in the Boulcott Street Bistro, Monsoon Poon and Osteria del Toro.
People were also eating out more because they were busy and "time poor" and so would go for a cafe meal out more often and not just on a Friday or Saturday night.
"And often (it is) not that pricey," he said, with meal costs remaining pretty flat.
The big events in the summer such as the Cricket World Cup had been "great" for the restaurants in the city, though the Rugby Sevens was more more of a boost for bars, not restaurants.
In past years Wellington "died" over summer. "But that's not the case any more" with more tourists and Kiwi travellers passing through, Egan .
Meanwhile, consumable sales showed the biggest gain in March in dollar terms, up $13m and 0.8 per cent better than February.
Compared with the same month last year, March food and drink sales were up almost 6 per cent, when general inflation was up less than 1 per cent.
Antoinette Laird, spokeswoman for supermarket chain Foodstuffs, said it had been an extraordinarily long summer, with strong spending on outdoor and party food, such as steaks, sausages and salads and the like.
"With good weather, you do see more spending on food for barbecues and socialising," she said. Shoppers tended to spend heavily around Christmas, then there was a blip in February as they recovered, and then sales picked up again in March.
Consumer confidence was also high this year, adding to the strength of sales.
In tougher times, people tended to buy "treats" at the supermarket rather than going out for a meal.
Foodstuffs' New World chain has a "very popular" range of food from the deli, especially for summer picnics, she said.
It was too soon to say if prices for Australian products in New Zealand supermarkets were likely to come down in price because of the high New Zealand dollar.
Meanwhile, economists said that much lower petrol prices than the middle of last year have freed up cash to spend on other things, with strong spending figures for both March and February. Spending on fuel in the March quarter was about 10 per cent down on the December quarter, leaving an extra $200m or so for other things.
Westpac Bank economists said March showed another month of "rapid growth" in retail card spending, rounding out a strong first quarter.
Quarterly sales growth for core sales excluding cars and fuel was up a "very strong" 2.7 per cent economists said, which was the fastest pace since the end of 2006, before the global financial crisis hit. And that is in the context of extremely low inflation.
Spending is being given a turbo-boost by cheap petrol and lower fixed term mortgage rates, as well as the combined migration boom and tourism flood during the Cricket World Cup and Chinese New Year holiday, economists said.
Ongoing jobs growth and high migration were expected to keep spending up this year, ASB economists said, with cheaper petrol and lower mortgage rates increasing disposable incomes.
But the main exception to the rule may be rural areas where the low milk price will crimp incomes and spending, ASB said. Some other commentators are forecasting a dairy payout of under $5 a kg for the coming season, in part because of the high New Zealand dollar and rising global milk supplies.
Westpac senior eocnomist Felix Delbruck said in the last six months consumers "have come out of their shell after several years of fairly subdued growth".
The stars had aligned for stronger spending.
"Petrol is cheap, mortgage rates are low, house prices are rising and both migrants and tourists are arriving in high numbers," Delbruck said.
Clothing sales dipped 1.1 per cent in March, seasonally adjusted, partly reversing a near 3 per cent gain in February.
Super-March:
Retail spending with electronic cards rose 0.8 per cent in March, after a 1.1 per cent gain in February
Big risers:
Consumables (food and drink) , up $13M or 0.8 per cent in March. Up 5.9 per cent in the past year
Durables (furniture, hardware, appliances) up $6.6m or 0.6 per cent in March. Up 5.4 per cent in the year.
Hospitality, up 0.3 per cent in March and up 9.3 per cent for the year
Fuel: down 0.4 per cent in March and down 11 per cent from a year ago