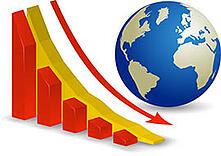 Prime Minister John Key is warning investors chasing gains in the Auckland housing market they could face a "nasty surprise" as he appeared to tip a cooling of booming price increases.
The Reserve Bank said on Monday that small property investors, buying two to four properties with a large amount of debt, are a key factor driving the hot Auckland housing market, up 24 per cent in just a year.
And the investors have been pushing out not just first home buyers, but also "movers" according to the Reserve Bank.
The property market was also being boosted by a massive housing shortage, years of under-building, a record migration boom and low mortgage interest rates.
But in a speech on the property market on Monday, Reserve Bank deputy governor Grant Spencer also took aim at investors.
Property investors bought 41 per cent of Auckland homes in June, up 8 percentage points since late 2013. Some of that increase was at the expense of first home buyers in early 2014, but more recently it has been at the expense of "movers" already in the market he said.
"This trend is increasing the risk inherent in the Auckland market. The increasing investor presence is likely to amplify the housing cycle, and worsen the potential damage from a downturn, both to the financial system and the broader economy," Reserve Bank deputy governor Grant Spencer said.
While Key played down the risk rising prices posed to the banking sector, he expected pressure to ease in New Zealand's largest city.
"There's a lot of supply now coming into the market. There's a bit of frothiness in Auckland that I think you might see dissipate a bit actually," Key told reporters at Parliament on Monday.
"One of the things the Reserve Bank didn't say but should have said [is] interest rates won't stay low forever, so when people go and buy houses, purely on the expectation that they're going to get a capital gain, they've got to be careful they don't come in for a nasty surprise," Key said.
Key said the banking sector appeared to be at little risk from a downturn, with the Reserve Bank's own 2014 stress tests showing the banks could cope if unemployment shot to 13 per cent and Auckland houses prices dropped 40 per cent.
"The banks are stress testing, the Reserve Bank's stress tested. Yes, there's some more risk if houses prices go up but it is at the margins."
Key believed most of the investors in the property market would be locals.
"While some will be offshore, in the residential market I think the bulk of them are New Zealand residents."
However the Reserve Bank said investors who rely heavily on bank lending to invest will be hit by the new loan to value ratio lending limits on Auckland property investors due to come into force in November.
"That is particularly so when we consider that over half of investor lending is currently being written at high LVRs (loan to value ratios) of over 70 per cent," Spencer said.
But the Property Investors' Federation says it is wrong to blame rental property owners for Auckland's rising house prices.
"The NZPIF disagrees that rental property activity is the prime cause of Auckland house price rises. Rental properties make up around 40 per cent of all houses in Auckland, so you would expect that the proportion of sales would be around this level," Federation executive officer Andrew King said.
"This is a supply and demand problem," he said.
Over the past year, net migration has increased by nearly 60,000, with many of migrants settling in Auckland. It is obvious that there is a supply problem.
Hitting investors to try and kerb demand is unlikely to yield the result the Reserve Bank wants.
"We actually need more rental properties in Auckland as there are signs of overcrowding due to shortages," King said.
Spencer said getting on the housing ladder had become a lot harder, especially for first home buyers, as investors took a great share of the housing market in Auckland.
Another factor in rising prices is the shortage of up to 20,000 homes, when Auckland is only building about 8,300 a year. With the present migration boom that may not be enough for the housing shortage to get worse.
The sharp price rise in the past year stretched the price-to-income ratio for the Auckland region to 9, double the ratio for the rest of New Zealand, and places Auckland among the world's most expensive cities, he said.
Auckland property market
What is driving prices up so fast?
A shortage of homes: between 15,000 and 20,000 homes
Not enough new homes being built: about 8300 homes a year being built
A migration boom: a net migration gain of 60,000 in the past year, with about half of those headed for Auckland
New residents could account for about 10,000 out of 30,000 home sales in the past year
Money is cheap: Low and falling interest rates mean people can borrow more
Investors are eating a bigger share of the pie: Property investors bought 41 per cent of Auckland homes in June, up 8 percentage points since late 2013
Investors are borrowing heavily: New mortgage lending jumped 28 per cent in the June year as more homes were bought at higher average prices
But investors' borrowing jumped 40 per cent