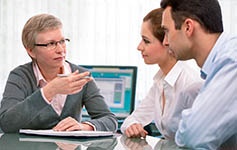 A property manager will be a major asset to your property investing team, however choosing the right one is a crucial decision and requires extended research.
When researching, source some past testimonials and references from their existing customers. A investor should speak to at least four different property managers for a balance comparison.
Here are our top factors to consider before making a decision:
1) Market knowledge
A property manger will have a extensive knowledge, understanding and coverage of the market.
The property manager should be able to advise you on;
How much rent you can achieve.
Improvements you could make to the property to potentially increase the rent.
The current vacancy rates, wait lists and demographics within the area.
A property manager should also provide you with suitable time alerts on when your lease is coming to an end or is for renewal, for you to plan to drive up rents and boost your cash flow.
2) Experience
A background check if there is staff dedicated to property management and their time working in the market - this can indicate their levels of experience. Also who specifically will be managing your property investment and when they will be in contact with you.
Investors should also ask questions of problem solving, involving difficult tenants and other pass issues and how the staff have overcome them.
3) 7 Questions to ask a property manager
Ask the right questions to help you make a better decision when selecting a property manager. Consider the following:
How many tenants on the rent roll are in arrears?
How often are disbursements made to owners?
How often have they found malicious damage with tenants?
How often have they been to a tribunal?
Will you advise me of repairs and maintenance that my property needs?
What is your process of reviewing potential tenants?
Can you give me a written comparison of rental values in the market?
4) Fees
Fees and charges will vary from company to company as well as the type of services they offer. Asking what they specially cover will save you from any unexpected fees.
Services can include sourcing tenants, ongoing management of the property and monthly statement fees.
5) Systems and processes
Have the systems and processes in place for handling various situations discussed, also discussing how you will receive your rental statements and key performance indicators. If they are unwilling to talk about their plans or KPI's, they may either be inadequate or have none in place.
A investor is able to manage the investment property themselves. Saving you 5 - 9% of your rental income in management fees. However this does require extensive knowledge of legal implications, tenancy legislation and the correct paper work to avoid pitfalls.
Ask yourself these questions before deciding to manage your property yourself:
Do I know the current rental and vacancy rates of the market?
Do I have access to quality, reliable tradespeople as part of my property investing team?
Am I happy with the tenant having my phone number and being on call for any issues with the property?
Am I available to supervise tradespeople where required, often at short notice?
Is the cost of my time worth the property management savings I will achieve?
Do I understand tenancy legislation?
How much will I save, by managing the property myself?