Despite the fears for 30 per cent price falls, property markets across the country are remaining resilient.
According to the latest data from CoreLogic, property prices in the major capital cities declined slightly by 0.8 per cent, however, the results were mixed across the country.
---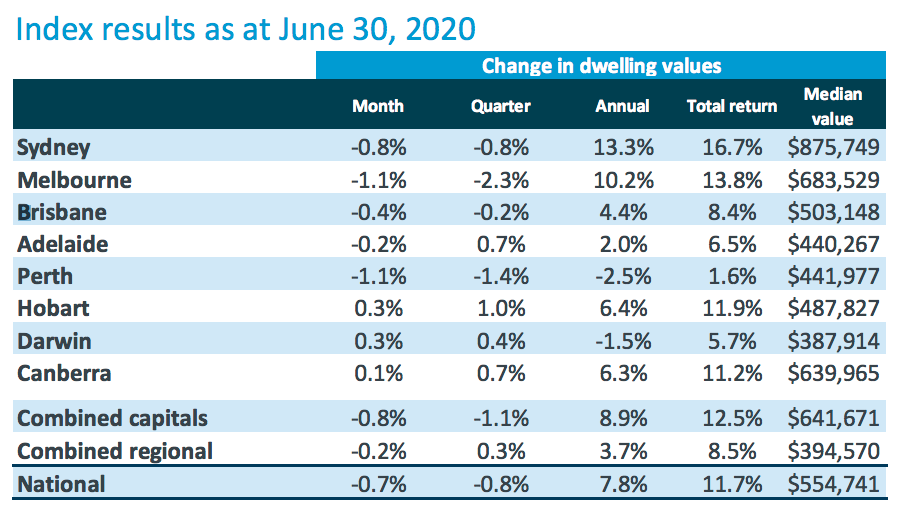 Source: CoreLogic
Some Capital Cities Experiencing Growth
There were a number of capital cities that have bucked the trend and have seen steady growth over both the last month and last quarter.
As has been the case in recent years, Hobart has seen solid growth with a 1.0 per cent increase over the quarter and a 0.3 per cent rise in June.
Hobart has been experiencing tight supply issues for a number of years, and despite the tourism slump, many owner-occupiers are still looking at getting into the market.
The other two capital cities that saw gains both monthly and quarterly are Darwin and Canberra with prices increasing by 0.4 per cent and 0.7 per cent respectively.
Adelaide, another traditionally low volatility housing market has also seen a 0.7 per cent increase in prices over the quarter, with a 0.2 per cent fall in June.
The bulk of the price falls have been happening in Melbourne and it appears that it is focused on the upper end of the market.
Price Falls from Upper Quartile
According to CoreLogic, the price falls came from the upper quartile, where prices fell by -3.7 per cent while lower quartile properties were down just -0.7 per cent.
CoreLogic made the point that while the bulk of the falls have been in these higher-priced properties, these were also the same segment of the market that saw strength in the latter half of 2019.
That's clear when we look at the annual data, which shows Melbourne prices are up by 10.2 per cent while Sydney is 13.3 per cent higher.
Notably, both Sydney and Melbourne housing markets were the ones that were impacted the most by the lockdown and subsequent decline in live in-person auctions.
Traditionally, these two cities and certainly the upper end of the market sees significant volumes of transactions taking place by auction.
Overall, the auction numbers are slowly getting back to normal, however, volumes are still down on where they have been at this time last year.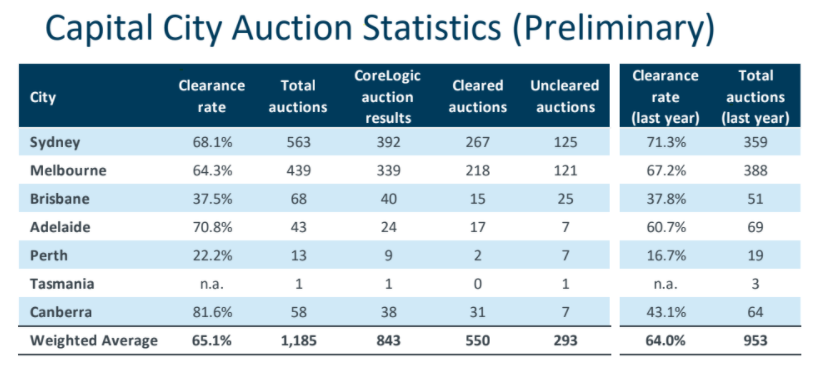 Source: CoreLogic
As we can see, auction results, while slightly lower, have been seeing strong results in comparison to where the clearance rates were 12 months ago.
It's also worth noting that a 60 per cent clearance rate is considered a market in equilibrium.
Those clearance numbers will likely change dramatically given the new lockdown measures that are again taking place in Victoria.
Opportunities for Investors
Looking at the data there is still opportunities for investors.
For investors looking for positive cash flow properties, the data is showing that there are a number of cities with impressive yields.
Despite a few years of price growth, yields on houses in Hobart are currently 4.7 per cent, while in Darwin, yields are now at 5.4 per cent.
In the unit market, Darwin again leads the way with yields of 6.8 per cent, while Canberra has average gross yields at 5.8 per cent.
Regional areas are seeing average gross yields of more than 6.0 per cent in a number of states including South Australia, Western Australia and Canberra.
With price falls in some areas, there is also the opportunity to look for distressed properties, which might continue in the coming months as Government stimulus measures ease off.
It's important for investors to remember that Australia is not one single housing market and there are opportunities throughout every cycle and even in cities and states that are experiencing falling prices.