Investar Search is a powerful search engine that allows you to use all sorts of search filters to find investment property that match your investment strategy or buying rules.
We had a quick brainstorm in the office, and here are ten simple tips to help you use Investar Search more efficiently to get better and more targeted results.
Please note this blog is aimed at Real Estate Investar subscribers.
1. Eliminating auctions from search results
To eliminate property auctions from your search results, choose $1 as your minimum starting price range in the drop down box before starting your search.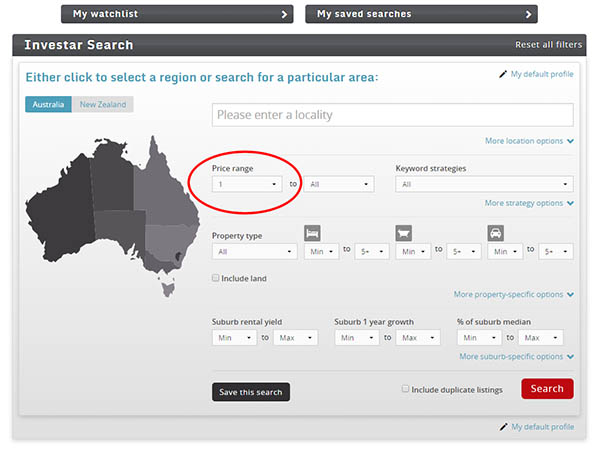 2. Targeting higher yields
To target higher yielding properties. Sort by "Potential Yield: High to Low" after conducting a search.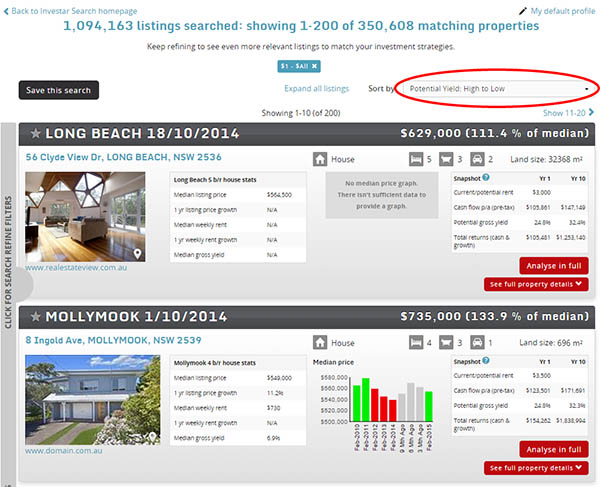 3. More location searching options
To get much more specific location search options, click "More location options".

Click the drop down box to select from advanced location options such as limit postcode, limit street address, limit suburb, search radius and suburb classification.
If you're not getting any results when trying to find investment property, your search options may be too specific. Try broadening your criteria.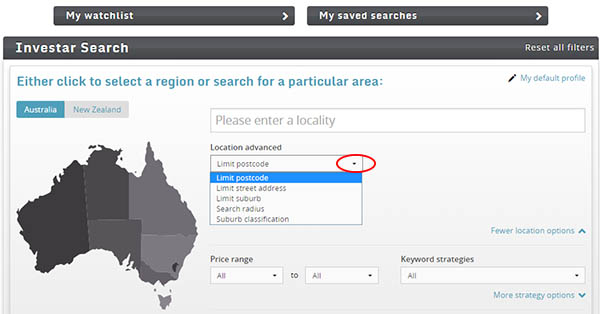 4. More keyword strategy options
You can search for a specific keyword in any listing. Click "More strategy options".

Add the keywords you'd like to include or exclude from your search to narrow it down.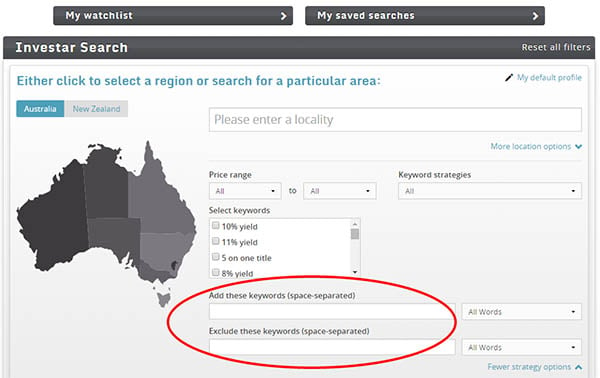 5. Listing age
Older listings may already be sold.
To view the latest listings and / or eliminate older listings, click the "More property-specific options".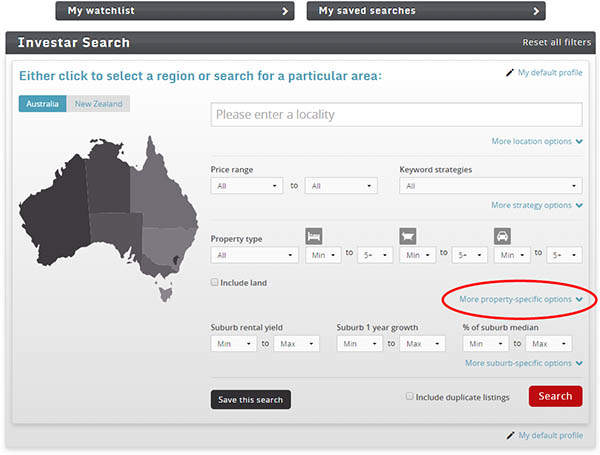 Choose your minimum and maximum listing age. In the below example, properties older than three weeks listing date will not be shown in the search results.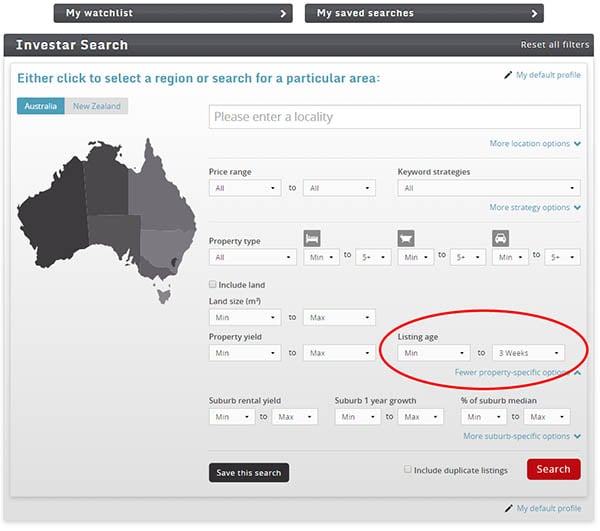 6. Using saved searches
If you're searching using the same criteria regularly, you can greatly reduce the amount of time spent searching by saving the search, having it run periodically and email you with the results.
You can save your search just before running it as below.

Or once you've run your search.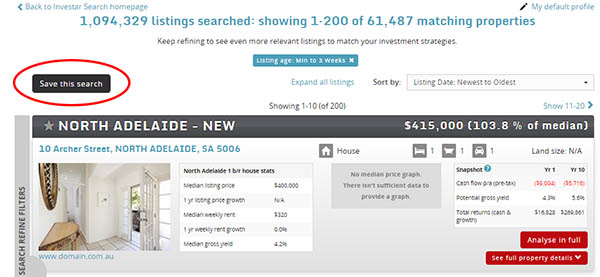 Once you've clicked the "Save this search" button, you'll be able to name your search and set how often you would like to recieve email alerts via the drop down box.

7. Narrowing search with property yield
If you're looking for a minimum or maximum rental yield figure, you can narrow your search down further to meet the criteria. Set your minimum and / or maximum rental yield figure as needed.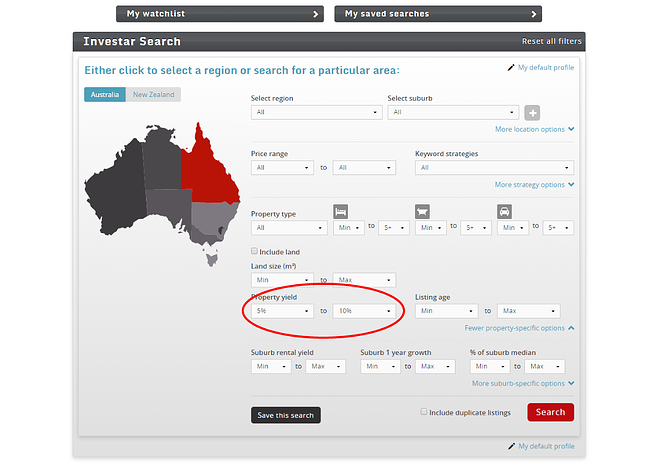 8. Targeting mining towns, university suburbs or waterfront suburbs
These areas may fit your property investing strategy if you are looking for high cash flow properties with double digit yields.
Select Suburb Classification > Location Advanced then choose your selected area. Investar Search will then only focus on mining towns, or suburbs within close proximity to universities or water.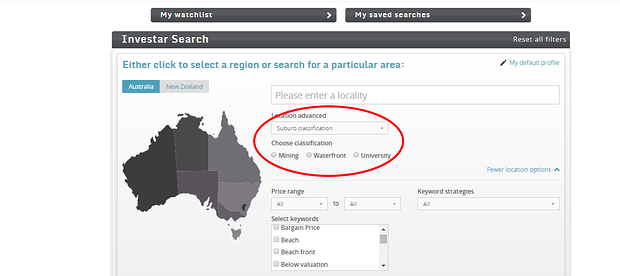 9. Adding properties to your watchlist
You can add individual properties to your watchlist by clicking on the star icon on the left hand side of each listing.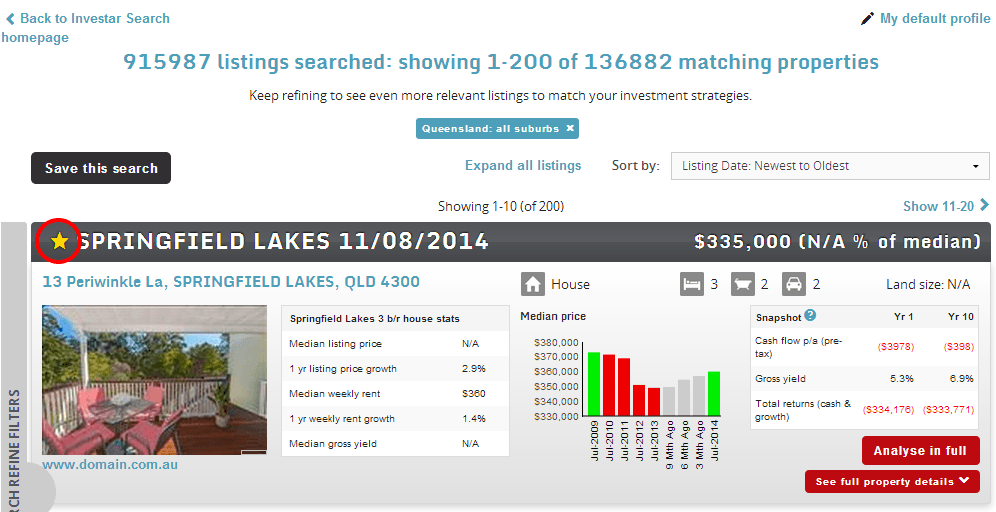 Your watchlist can be found at the top left hand corner of the Investar Search homepage.
You can expand this view by clicking on the arrow, this will show a list of your watchlist properties. You can delete any properties you do not wish to keep any longer from here by clicking on the - icon.

10. Check out our other on-demand help and support material
You can also visit our Knowledge Base.