So, you've decided to put your property on the market! One of the first things you need to do is find the right selling agent.
But how?
Finding the right real estate agent is an important choice when aiming for the best possible outcome from the sale of your property, so it's important that you choose an agent that will help you achieve your goals.
And remember, when researching details including recent comparable sales, sale price compared to listing price and average days on market, Real Estate Investar Pro Members can use our platform to analyse and research the very latest data.
---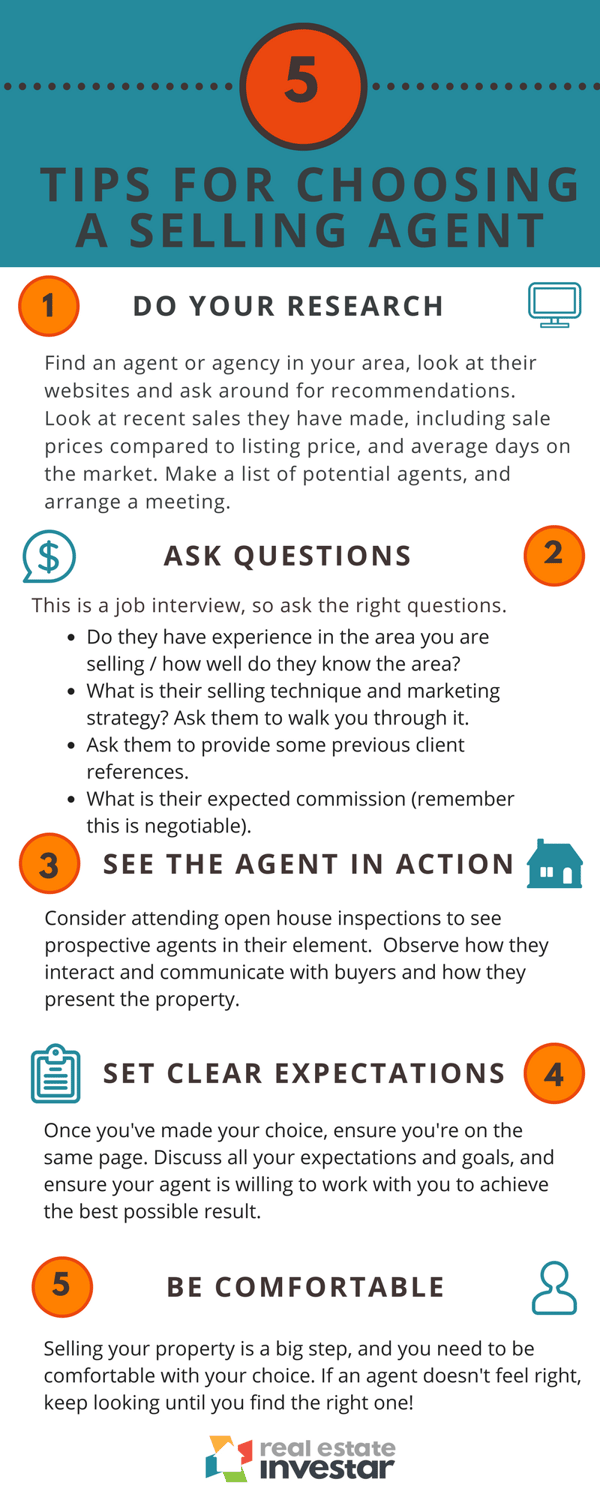 ---
Making your final decision
When you have met and interviewed some agents, weigh up their experience, local knowledge and proposed marketing strategy.

Remember, to achieve the best possible price, you want to get as much interest as you possibly can in your property, so the marketing strategy and type of sale is crucial.
Commission rates
Avoid choosing an agent based solely on the commission rate, as achieving a higher sale price can very quickly outweigh savings you could achieve from a lower commission rate.
e.g. you have two offers from agents wanting to sell your property, one who asks for 2.5% commission, and one who asks for 3% commission.
If you sell your property for $800,000 you will pay the agents:
$20,000 at a commission rate of 2.5%
$24,000 at a commission rate of 3%
So on the face of it, it could be tempting to choose an agent who offers the lower commission rate if you are hoping to achieve a sale price of $800,000, as you would save potentially $4,000.
However, for the sake of argument, lets assume the agent who charges 3% also has better market knowledge, a more active database of potential buyers and a better proposed marketing strategy.
If, through a combination of these factors, you were able to achieve a sale price of $830,000, the equation very quickly changes.
At this hypothetical sale price of $830,000, you would pay the agent $24,900, but obviously achieve $30,000 more on the selling price - a much better result.
So consider the overall proposal from each agent and make your decision based on a combination of factors including:
Method of sale (auction, private treaty or tender)
Marketing strategy
Reputation of agency
Market knowledge and experience
Commission rate
Communication skills
Previous client testimonials
Check the contract before you sign
Once you've selected your agent, check the terms of the appointment and ask a suitably qualified professional to look over it for you before you sign.
It's your responsibility to know what you've agreed to before signing anything legally binding.