Despite the negative headlines early in the year, house prices across the country have continued to rise with experts signalling there could be more gains ahead in 2021.
Over the last month, house prices in Australia's major capital cities increased by 0.7 per cent, taking the annual increase to 1.9 per cent according to the latest data from CoreLogic.
Adelaide and Perth have been the two strongest metro markets in the past 30 days, increasing by 1.5 and 1.3 per cent respectively.
The latest house price rises come on the back of a strong November, that saw prices rise by 0.7 per cent in metro areas and 1.4 per cent in the regional areas.
There has been a strong push away from the larger Sydney and Melbourne markets in recent months and towards both regional areas and also the small metro cities such as Darwin, Canberra, Perth and Adelaide.
Both Sydney and Melbourne property values remain at levels similar to those seen in early 2017.
While rising, Perth values are similar to mid-2006 levels, whilst Darwin values are in line with 2007 levels.
New Record Highs
At the other end of the spectrum, housing values moved to new record highs in Brisbane, Adelaide, Hobart and Canberra through November.
At the same time, portions of the owner-occupier markets in both Sydney and Melbourne are very strong as buyers look to capitalise on record low interest rates, with buying property now a similar proposition to renting.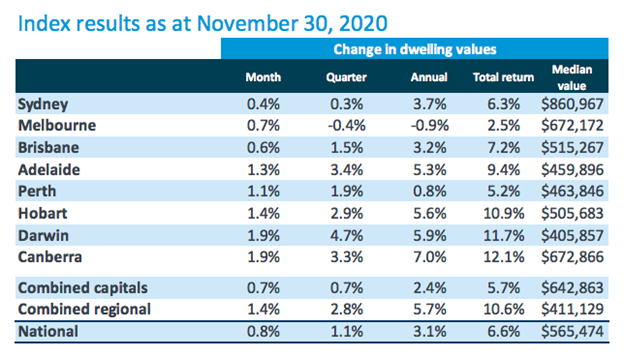 Sydney, in particular, has a number of very strong areas including the Northern Beaches and North Shore, where owner-occupiers are moving from renting to buying, thanks to the low level of interest rates on offer.
Australia Residential House Prices - Annual Growth
This is evident when we look at the latest set of auction clearance numbers in both Sydney and Melbourne.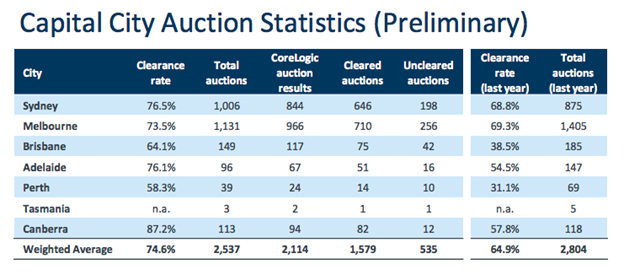 Auction clearance rates are sitting in the mid-70s, which is generally considered a strong auction market and interestingly, the numbers are still higher than this time last year.
Prices rose sharply at the end of 2019 thanks to the re-election of the Liberal Government and APRA dropping some of their lending restrictions.
Australian House Prices and Housing Finance - Annual Growth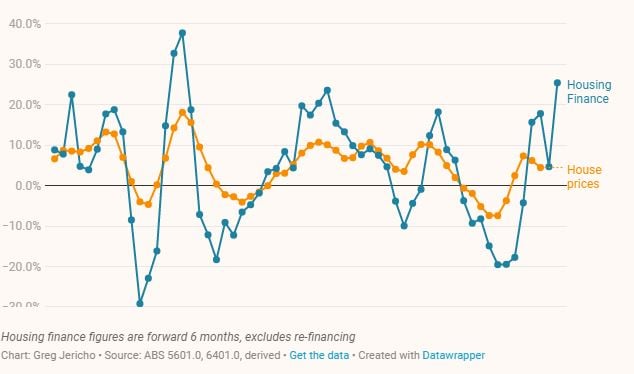 At the same time, we are still witnessing low stock levels, which have been one of the main reasons for prices remaining robust.
Learn more about supply and demand in property investment here.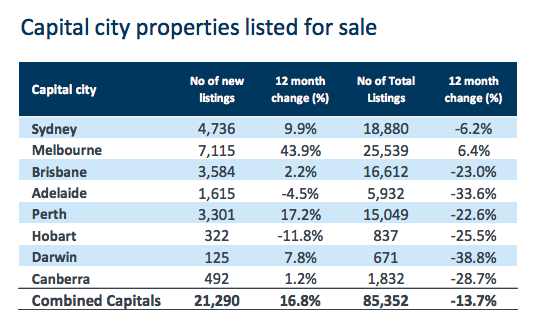 Across the country, all the major cities have lower levels of stock than they did 12 months ago, with the exception of Melbourne, who has been hit hard by the second set of lockdowns.
Darwin has seen a dramatic fall in properties listed for sale, down -38.8 per cent from 12 months ago. This has clearly been a contributing factor to the jump in prices that we've seen over the last quarter.
The increases come on the back of the Australian economy falling into a technical recession, before rebounding quickly.
Australia GDP Growth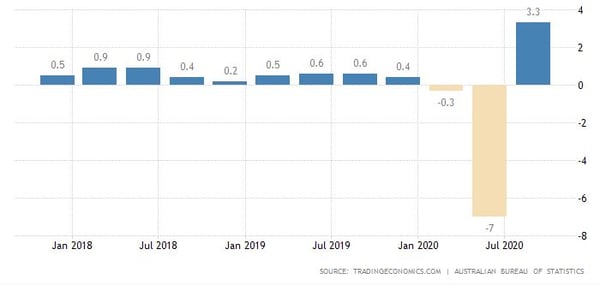 CoreLogic's Head of Research, Tim Lawless, believes that if the current growth trend persists, we are likely to see house prices across the country surpass pre-COVID levels in early 2021.
"The national home value index is still seven-tenths of a per cent below the level recorded in March, but if housing values continue to rise at the current pace we could see a recovery from the COVID downturn as early as January or February next year.
The recovery in Melbourne, where home values remain 5% below their recent peak, will take longer."