For most people, whether they are owner-occupiers or property investors, purchasing a property is not a decision to be taken lightly.
For that reason, it's important that you understand the process of making an offer, which will allow you to hopefully get the best deal you can.
One of the final stages in the buying process is putting an offer in, however, there is a fair bit of groundwork you need to do before you get to that point.
Putting an offer in on a property is a combination of understanding the value of the property and then negotiating to try and achieve the best outcome for all parties.
Here are five tips for you to consider before making an offer on a property, whether it is going to be your home or an investment property.
1. Understand the Conditions of Sale
Ask the real estate agent how they will receive offers on the property, then check with your solicitor to ensure this will be acceptable.
You can either buy a property with or without conditions attached to it.
At times, a seller might have conditions, but for the most part, it is usually the vendor that will attach conditions to the sale.
Commonly these are things like being subject to finance, or a building and pest inspection.
Generally speaking, an offer is more attractive to a vendor if it comes will less conditions attached.
Less conditions can put you in a better negotiating position.
2. Estimate the Market Value of the Property
Sales agents tend to list properties at a price above what they are hoping to achieve. For example, if the agent and vendor would like $500,000, the property might be listed at $525,000.
The best way to determine whether the property is fairly priced is by conducting your own comparable sales analysis.
Use a tool that can show you what properties have sold for in the area in the last six months, that match the age, quality and attributes of the property you're looking at purchasing.
Real Estate Investar Subscribers can use CoreLogic RP Data to carry out this research.
This will help you determine what price you want to pay for the property, and your overall strategy for accomplishing this price.
For investment properties, you can take that one step further and assess what the performance of that property will be like in the years ahead.
Real Estate Investar subscribers can use the Property Analyser tool to generate 10-year growth and cash flow forecasts.
3. Understand the Vendor's Motivation
If you're looking at purchasing the property under fair market value to create instant equity, often the best opportunity will come from a highly motivated vendor.
Distressed properties, which may be for sale from vendors who, for example, may be in financial difficulties or coming out of a divorce, could be willing to accept a lower offer in return for a quick sale.
On the flip side, a property that is owned with no debt might give you little room to negotiate. And the vendor may not accept a lower offer than what they have asked for.
Either way, you should factor in the motivation of the vendor, prior to putting in an offer.
---
---
Another factor to consider is where your target property and the suburb it resides is with the property cycle, as this will influence the level of discount you can achieve.
Psychology of Property Through Boom and Bust Cycles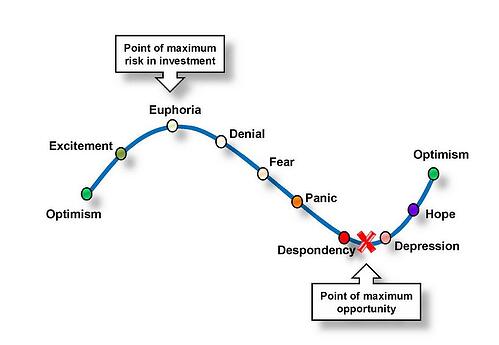 ---
---
During a booming market, it will generally be more difficult to achieve higher discounts because of the number of buyers in the market and the high levels of demand.
Conversely, during a bust market, there will tend to be less buyers and an abundance of properties for sale, so it may be easier to achieve larger discounts.
3. Put Your Offer in Writing
Once you have decided on your initial offer and conditions of sale, you can submit your offer in writing.
Talk to your lawyer or a conveyancer, prior to putting an offer in, so you can include any conditions or contingencies.
4. Be Patient
Remember to be patient. Putting in an offer and waiting for the agent to get back to you can take time and be stressful.
Don't rush into anything and don't be afraid to put a time limit on any offers you make.
5. Have Everything in Order
It's advisable to be well and truly organised prior to putting an offer in on a property.
Being pre-approved for finance is an important step and that will make your offer look a lot more attractive.
Be prepared and work with your mortgage broker to understand the finance side of things.
Having pre-approval could make the agent more receptive and you might find they will be more willing to work with you to achieve an outcome as it makes you look more authentic.