A growing number of Australia's biggest banks and top economists have changed their tune from talk of rate hikes to predictions of rate cuts next year, so what does that mean for borrowers?
Is now the time to lock in a low fixed rate, or are variable rates the way to go?
Banks big and small have spent much of the year trying to lure in new customers with temptingly-low fixed mortgage rates, and borrowers have been lapping it up, amid expectations that rates would start rising in 2015.
But the tide turned last week, as shockingly weak economic growth figures prompted some economists to rethink their interest rate forecasts.
Could the cash rate fall to 1.5%?
A growing number now think the Reserve Bank will be forced to slash rates from 2.5 per cent to new record lows, possibly as low as 1.5 per cent.




Australian Official Cash Rate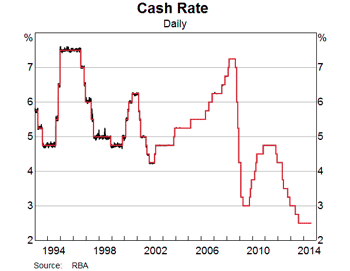 The number of borrowers looking to fix their mortgage has steadily increased in recent months, says Mortgage Choice spokesperson Jessica Darnbrough.
Expectations that the Australia cash rate would rise next year drove fixed loan approvals to a nine-month high in November, she said.
Justine Davies from Canstar has also seen a massive rise in the number of people searching for fixed rate loans in the past six months.
In 2012, 70 per cent of home loan searches on Canstar's database were for variable rate loans. Last month, it was just 45 per cent.
Meanwhile, one quarter of searches in November were for five-year fixed rates - up from eight per cent in 2012.
While there are benefits to locking in a fixed rate at the moment, growing expectations that the RBA will cut rates again make variable loans all the more attractive.
"Home loan rates are as low as we have ever seen over the past 20 years and the good news is that they're not likely to rise in the near future," Ms Davies says.
RBA not intending to raise the cash rate
"Last Tuesday (RBA governor) Glenn Stevens effectively said that he could see no reason to increase rates in the near future.
"Since then, of course, with subdued economic data, we may be looking at a rate cut in 2015 - it's great news for current mortgage holders."
Mr Stevens has markedly changed his language around the Australian dollar, stating that it needs to fall in order for the economy to get back some growth momentum.
World cash rates

| | |
| --- | --- |
| Country | Current cash rate |
| Australia | 2.5% |
| Canada | 1.0% |
| Japan | 0.1% |
| European Central Bank | 0.05% |
| Federal Reserve | 0.25% |
| Britain | 0.5% |
| New Zealand | 3.5% |
Types of loans: fixed vs variable and split
Ensuring you select the appropriate type of property investment loan and finance is essential for you to grow a successful and profitable portfolio, and a large consideration is weighing up the pros and cons of fixed rate vs variable rate loans.
There are many different types of property investment loans and lenders available to you, and it can be a hard decision to know where to begin and how much you should borrow.
It is important that you get your property investment financing right from the outset, as it can potentially save you thousands of dollars in interest repayments.
Variable rate loans
Variable loans carry the risk that the interest rate has can rise as well as fall, because the loan operates under a variable rate, it will typically rise in line with the Reserve Bank of Australia (RBA) announcements of interest rate adjustments.
Many borrowers prefer a standard variable rate loan, because this type of loan is considered one of the most flexible on the market and allows lenders the freedom to make extra repayments, redraw funds from the loan and even split the loan if need be.
Variable loans offers borrowers
Greater repayment flexibility
Redraw options
Split loan features
Additional repayment options
One consideration to make when deciding if a variable loan is right for you is to weigh up the benefit of some of the introductory or 'honeymoon' rates some lenders offer to kick start standard variable loans for their borrowers.
This can be a very attractive option, as a low 'honeymoon' rate can be applied to the loan for an introductory period of 6 to 12 months before the rate changes back to the standard variable.
While this can be a great way to start out for many borrowers, do not allow the honeymoon rate to lull you into a false sense of security.
Fixed rate loans
With a fixed interest loan, the interest rate you pay does not change for the agreed period of the loan.
You can choose a term of between 1-10 years to fix the interest rate, and if there is still an outstanding balance on the loan at the end of this period, the loan will usually convert to the current standard variable rate offered by your lender.
Things to know about fixing your loan:
You could pay more
Low fixed rates on offer at the moment suggest financial institutions are pre-empting further interest rate cuts.

Fixing means you won't enjoy lower rates if the RBA does cut the cash rate.
Less flexibility
Fixed mortgages generally have less features and stricter rules about additional repayments. You may also have to pay a large break fee if you want to get out of a fixed loan, so think about future plans (upgrading, refinancing etc) before you fix your mortgage.
More certainty
Fixing is ideal if you want certainty about your repayments and want to know how much your repayments will be over a given period of time.
Split rate loans
A split loan offers means you can take part of the loan at a variable interest rate and part of your loan as a fixed interest rate.
The overall loan amount is still considered as your total loan, but you are able to pay different repayment amounts on each split component.
A split rate loan is not offered by every lender and will not be the right option for every borrower, but it is an interesting investor lending option to consider for those who want to hedge their bets.
Looking to take action with your property investing?
Book in your complimentary, personalised demo today and learn how we can help you invest better. It would be great to speak with you today!