In the current climate, we are starting to see a big push away from CBDs, with both investors and homebuyers looking to regional areas and even interstate to find properties.
With the low level of stock on the market, it is causing a number of buyers to put in offers on properties without ever seeing them.
For many people, the idea of buying property sight unseen could be a scary proposition, however, there are a number of things you can do to make sure you're mitigating any risks.
1. Set Your Criteria
It's important to layout your buying criteria long before you ever put an offer in on a property. That way, when the time comes, you have a clear set of guidelines you're able to work from.
What that means, is you'll need to do some research and break down the various factors you're looking for in a property that is potentially in another state.
This infographic breaks down some factors to consider:
---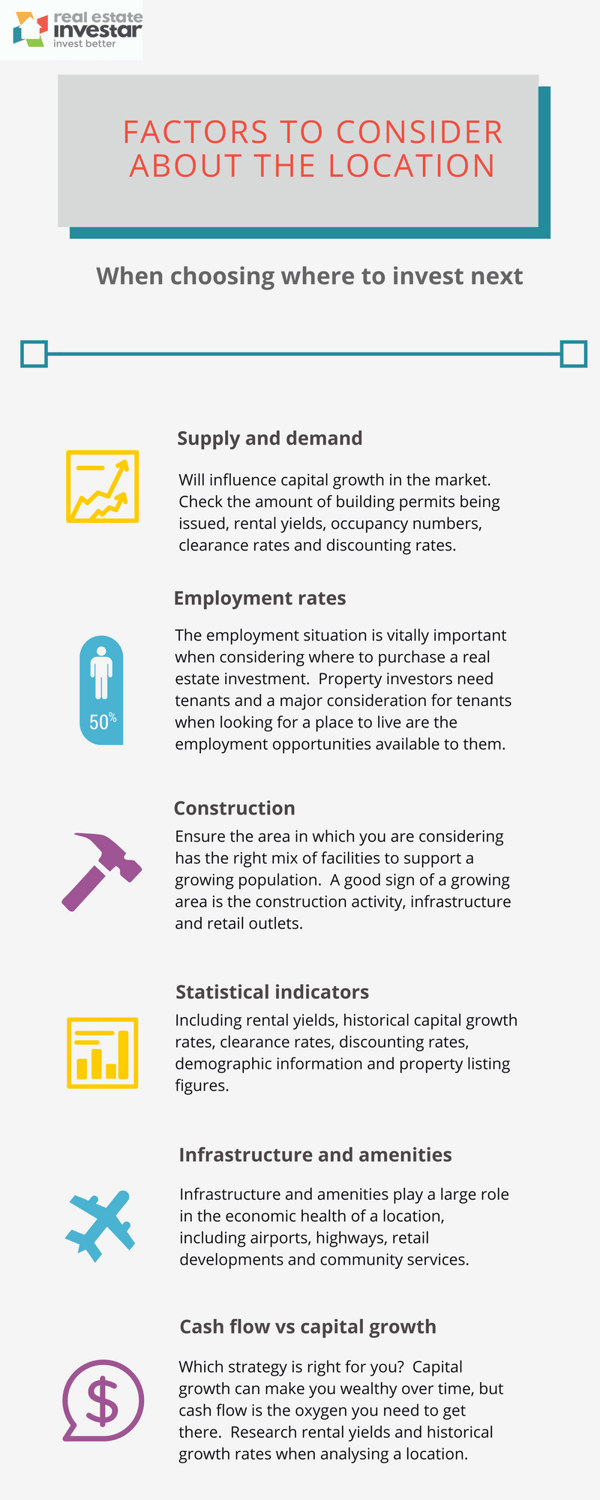 ---
Other factors include:
Recent median price growth
Land component
Distance from the CBD
Proximity to schools and amenity
Vacancy rates or
The overall level of owner-occupiers compared to renters.
The exact criteria you need is always going to be a personal preference based on your own situation, however, when you write the various factors down, it becomes easier to identify what you need to look for.
You can use tools like Real Estate Investar's Investar Search, to break down the key metrics within the suburb, including median values, potential cash flow and zoning information so there is no excuse for not having a clear picture of what is happening in a suburb.
Similarly, you can use the likes of Google Maps, which makes it very easy to see the type of area a property is located in. For example, if you see that it is sitting on a major road then that might be a red flag for you.
2. Get an Inspection
If you can't physically travel to visit the property you're looking to purchase, then it is still worth getting someone else to.
Many buyers agents that operate locally, will likely be able to assist you here and can also offer insights into the area, without needing to use their full service. They can also help with negotiations or even bidding at auction.
If you don't want to engage a buyers agent, you'll still want to find some you trust to walk through the property and also order a building and pest inspection.
These days most sales agents will do a virtual walkthrough with you via a video call, but it is still worth getting a third party opinion if you can.
Here's a free checklist you can ask the agent to complete on your behalf.
3. Get a Valuation
One of the most effective ways to make sure you're not overpaying for a property and to get a clearer picture of its true value is to order an official valuation.
Most people are familiar with valuations when the lender orders them directly.
However, it is possible and often recommended that you seek an independent valuation before you purchase a property.
It's also possible to put in an offer subject to a valuation if you're concerned about any elements of the property.
A valuer will have excellent first-hand knowledge of the area and how property values are trending, so you should be speaking to them well in advance if you are looking to purchase site unseen.
Alternatively, you can use online tools such as CoreLogic RP Data (including in our Professional and Advanced Memberships) to get unlimited desktop valuation estimates.
4. Speak to Property Manager
If you're buying as an investment, you'll likely be needing to use a property manager at some point. Why not engage them early and get their on the ground insights.
A property manager has a very good understanding of the types of people that are living in the area and how much demand there is for that type of property.
They will also have a very good understanding of the demographics of the area and what is happening.
Often times, areas that are seeing strong rental demand and growth, and tight vacancies, are a leading indicator of price rises.
Getting to know some local property managers and letting them assess your property is a good idea.
You can learn the suburbs which are experiencing strong rental growth in our free pack of suburb reports, updated monthly.
If you are going to be using proposed rental income in your application for finance, then you'll want to have a good understanding of potential rents in the area.
5. Looking Outside Your Backyard
The reality is that most investors that own one investment property, own it in the same city in which they live. Unfortunately, the best capital growth potential is rarely on our own doorsteps.
Having the ability to look nationwide for areas that are ripe for growth will likely be one of the best things you can do to significantly grow your portfolio.
While there are some risks involved in investing interstate, these risks can often be mitigated by doing your homework and making a few extra phone calls. It's a small price to pay for the potential for significant growth and cash flow that might not be available in your back yard.
---